Pruning & Trimming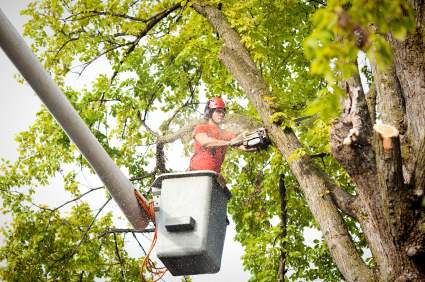 There's more to tree trimming than simply chopping off a few branches. Only a trained arborist can make cuts that will close properly. At Carolina Tree Service, our professional arborists have the knowledge, the skill, and the equipment to take care of your trees properly. Carolina Tree Service has an in-depth knowledge of trees. Different types of trees require different methods of branch and root pruning to ensure they remain healthy and to avoid unsightly damage or permanent tree damage. We've been in the tree business for 35 years, specializing in pruning and trimming.
---
Call for a FREE Quote
---
Preventative Maintenance
Proper pruning keeps branches from damaging your property and interfering with wires. It also creates a clean, well-maintained look for your property. However, pruning should be performed according to specific tree trimming procedures to avoid damage and safety hazards caused by free falling branches.
The most common reasons to prune and trim trees:
provide clearance from structures
prevent interference with overhead wires
allow the sun to adequately dry your roof after wet weather
prevent squirrels and other animals from gaining easy access your attic
promote overall tree health and structural stability
prevent insect attacks and fungal diseases
improves air flow between the branches to reduce the chances of damage during high winds
Spruce up!
Carolina Tree Service recommends regular trimming and pruning to maintain a tree's health and appearance. A good trimming will ensure that dead, diseased, or crowded branches are safely removed, reducing the likelihood of storm damage. Pruning also lets a tree maintain its most aesthetically pleasing shape, allowing your residential or commercial landscape to looks its best. Ornamental pruning and shaping can increase or reduce the height of the tree, encourage growth of lower branches, and promote flowering. Carolina Tree Service has been in the tree business for 35 years.
Don't Bark Up The Wrong Tree
Call the professionals at Carolina Tree Service for all of your tree pruning and trimming needs: (336) 265-0585. The certified arborists at Carolina Tree Service adhere to the safety and pruning practices outlined by the International Society of Arboriculture. Carolina Tree Service is dedicated to remaining in compliance with all local and state permitting regulations. We guarantee that all work is done properly and safely. We've been pruning trees since 1988.
---
Call for Fast FREE Quote
---